Backcountry skiing around Table Mountain, Herman Saddle & Artist Point
If you're a skier and you haven't been to the backcountry around Mt. Baker, you need to go. It's a playground for backcountry skiers and snowshoers. The views are spectacular, the terrain is endless and the accessibility is easy. We did an overnight snow camping trip at Artist Point and paired that with the Table Mountain circumnavigation ski tour this past weekend.
Trip Details
Ski tour: Table Mountain Circumnavigation (Mt. Baker Ski Area)
Distance: 4.6 miles (although, we added more to/from our camp area totaling 6.1 for the day)
Time: 5 hours (typical range 4-7 hours)
Elevation gain/loss: 1,900 feet (our total elevation was 3,300 for the day with to/from our camp)
If you go skiing at Mt. Baker, check out the Table Mountain route on page 83 of Martin Volken's Backcountry Ski & Snowboard Routes in Washington for more information.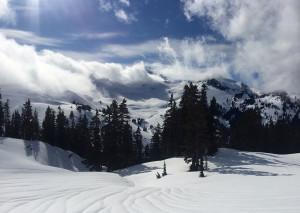 Artist Point is a popular destination for backcountry skiers and snowshoers. There's access from the resort (you have to enter through the backcountry gates) that will take you up part of the way. We started from the Upper Heather Meadow parking lot around 9:30 a.m. and commenced the 1.5-mile skin up to Artist Point.
Once at Artist Point, we set up camp, took a lunch break, and discussed our next ski route. The goal for the day was to get some touring distance in, not necessarily get turns in.
The Table Mountain ski traverse is about a 4.6-mile circumnavigation from Artist Point and returns from Herman Saddle.
Starting the traverse from the toe of Table Mountain, we opted to go lower (there were tracks higher up on the toe), which was the right choice. Any higher, we would have been at risk on the steeper pitches on Table Mountain, which are prone to slides and steep.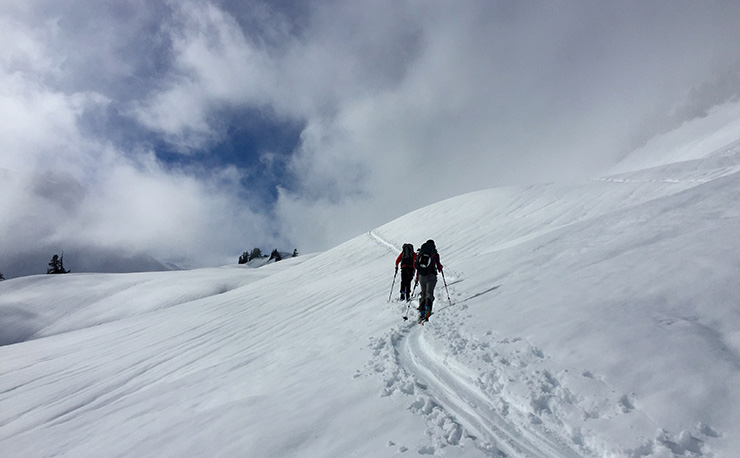 Once at the other end of Table Mountain, head northwest towards Iceberg Lake. We took our skins off and got a few turns in (pick your terrain here, there are mellow and more challenging options). Once at the lake, we opted for a traverse around to the east side and then crossed over the lake itself.
From here, it's a pretty burly climb back up to the top of Herman Saddle. Luckily, there were skin tracks switchbacking up skiers right of the gully behind Herman Saddle (there were so many wet loose slides skiers left of the gully, I would not advise traveling on that side).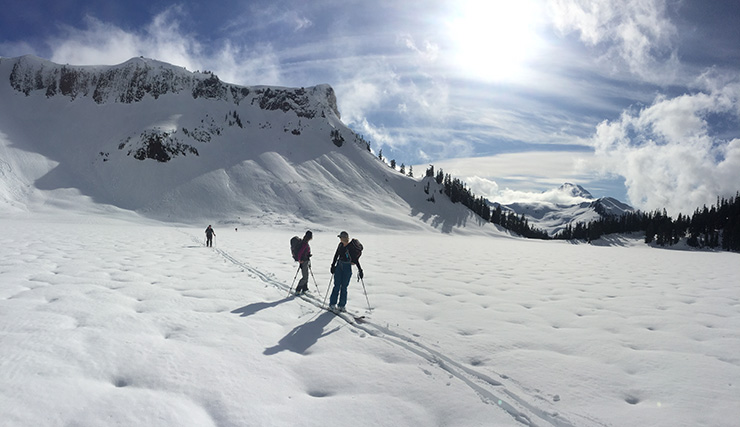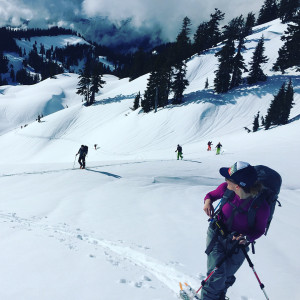 Herman Saddle is another popular destination for backcountry skiers. The easiest route down is skiing left of the Bagley Lakes basin, which is typically the most popular way back to the Upper Heather Meadow parking area.
We needed to skin back up to our campsite at Artist Point, so opted to go skiers right. Be prepared for variable terrain, there were some steep sections, but also some more mellow pitches skiers left towards the bottom. The snow was less than ideal (crusty from melt-freeze cycles), so skiing was more challenging on the steeper pitches.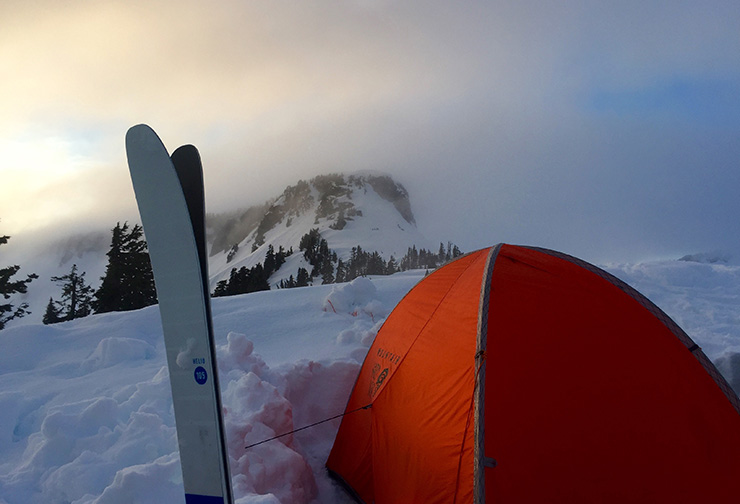 Once back at camp, we promptly dug a snow cave for our group and proceeded to have merry times under shelter!
Have you been backcountry skiing around Mt. Baker, Herman Saddle, or the Artist Point area?
For more photos of Artist Point, see our article on AIARE Level 1 Avalanche Training for our field day there.
Updated: December 31, 2020
This post may contain affiliate links to brands we trust. If you use these links to purchase something we may earn a small commission. Thank you for your support!