Tips on how to layer properly for skiing
What do dressing to go skiing and a good cake have in common? Layers, lots of layers. Wearing your clothing in layers to go skiing makes it easier to stay warm, dry, and looking fly all day long on the slopes. You can easily tweak your ski layers to account for changes in the weather and stay comfortable even as the temperature fluctuates and there are occasional flurries of snow.
Your ski layering system is only as good as the strategy that goes into it, so we've put together this handy guide to help you dress for success on the slopes. We'll start out by talking about some common strategies and then break down the clothing items that each is composed of.
How Ski Layering Works
The most common and simple layering system consists of a next-to-skin base layer, an insulating layer or layers, and finally a shell layer. Often base layers and underwear are interchangeable, and you're looking for the same things from each.
The base layer is meant to wick any moisture your body produces away from your skin so that you can dry out instead of staying damp and uncomfortable all day. The insulating layers are pretty straightforward, they trap air in their insulation to help you preserve body heat and stay warm.
Finally, the shell layers are your final barrier to the elements, they keep wind, snow, and rain out, keeping you, and your other layers dry. That's the most common strategy for ski layers, but what sort of clothing items should you be looking for to fill each of those roles?
Base Layer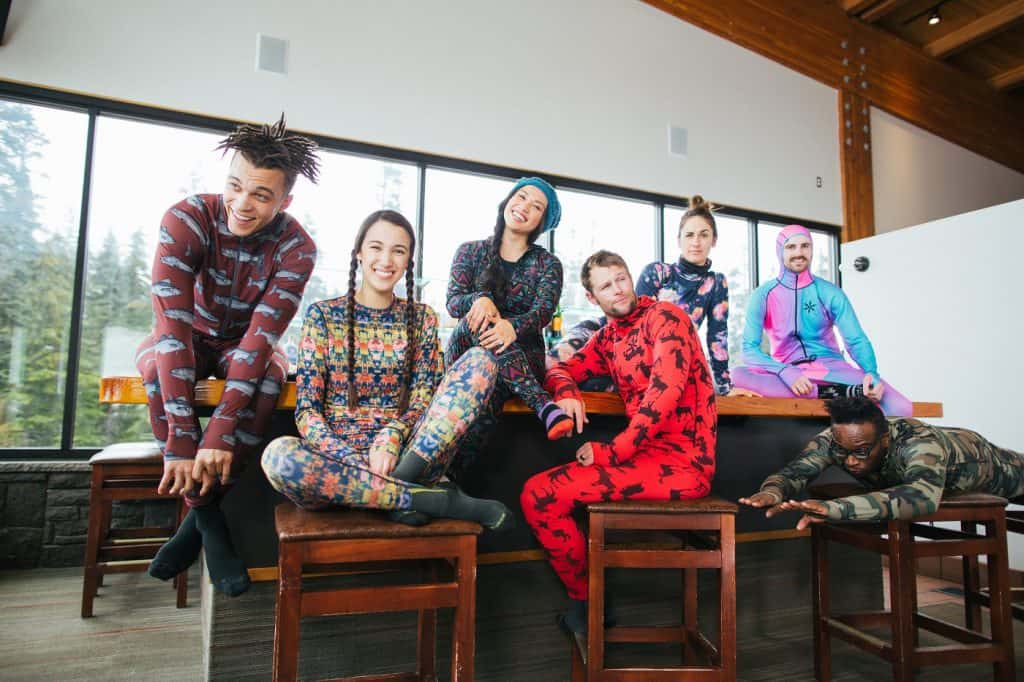 Your base layer is anything that touches your skin directly. You can either wear base layers without underwear or just wear underwear under your long johns – it's up to you.
Either way, your biggest priority is to avoid anything made of cotton when it comes to baselayers. Cotton doesn't wick moisture away from your body well, so as soon as you perspire at all it will get wet, and then stay wet all day. That will leave you cold and uncomfortable.
Instead, look for base layers that are made of wool or synthetic materials. Wool and synthetics do a great job of wicking moisture away, keeping you warm and dry. This is an essential part of your ski layering system.
Look for ¾ length baselayer tights that won't bunch up in your ski boots, and make sure your base layer top is long enough that there isn't a gap when you bend over or lift your arms above your head.
You can just wear leggings or yoga pants underneath your ski pants, but a dedicated pair will usually be more comfortable and be better at wicking moisture.
Ski Socks
The same thing goes for your ski socks. Look for ski-specific socks that are made of wool or synthetic materials. We're going to keep it simple here and say that you should always get ski-specific socks.
While you may think a thick pair of socks will keep you warmer, they actually cut off your circulation and make your feet colder. Thin ski socks wick moisture and won't cut off your circulation.
Insulating Layers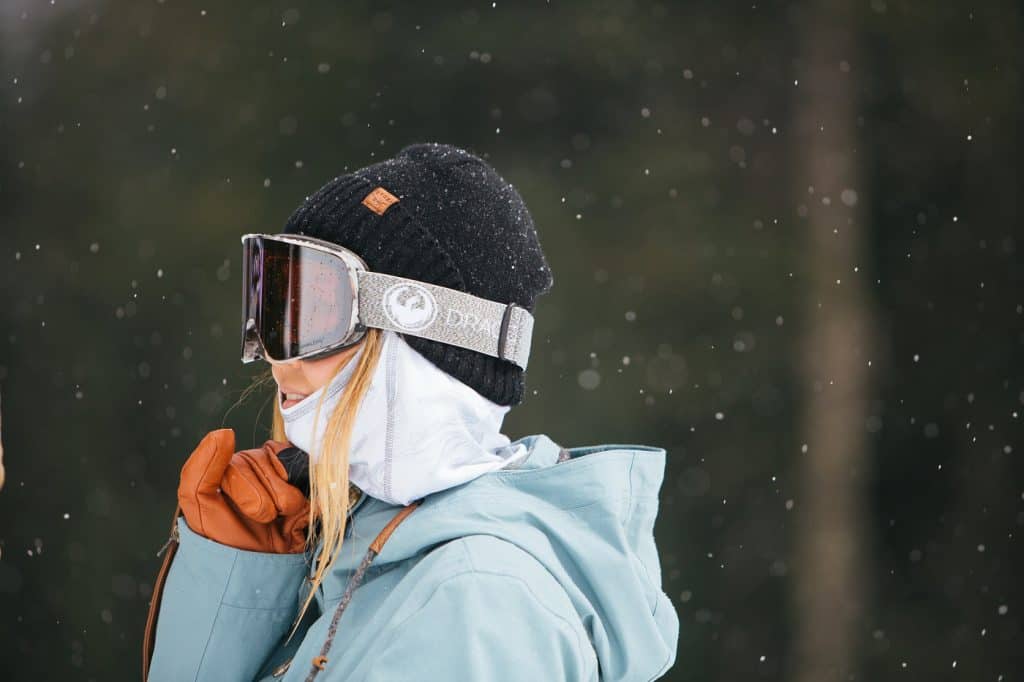 This is where you have some choices. Your mid layer, or insulating layer is what helps keep you warm. You can add, remove, or swap out to mach the conditions – that's the beauty of layering.
There are many different styles and types of insulating mid-layers, and which one will work best for your ski layers depends mostly on personal preference. So it's a good idea to consider what type of skiing you like to do, the average temperature at your home ski area, and how warm you usually run.
If you primarily ski inbounds at ski resorts, packability and low weight aren't as much of a concern so you'll be just fine wearing a wool sweater or fleece. They'll keep you warm on the chairlift, and on really cold days you can pair them with an insulated puffy jacket. You still want to avoid cotton in favor of wool or synthetics here.
No matter what kind of skiing you're into, a good puffy jacket is indispensable. Look for either coated down or synthetic insulation so it will keep you warm even if it gets wet, and look for something that can pack down small.
By having a puffy jacket that can pack down, then there's no excuse to have it in your bag for emergencies. If your legs tend to get cold, there are puffies for them, too! Look into insulated puffy knickers or an insulated skirt.
The key to making insulating layers work is flexibility. Look at the temperature forecast and mix and match based on it.
Really cold days skiing might call for a wool sweater under a puffy jacket. Slightly warmer ones might work better with an insulated vest. If you stay flexible you can modify your ski layers to work with any weather.
Shell Layers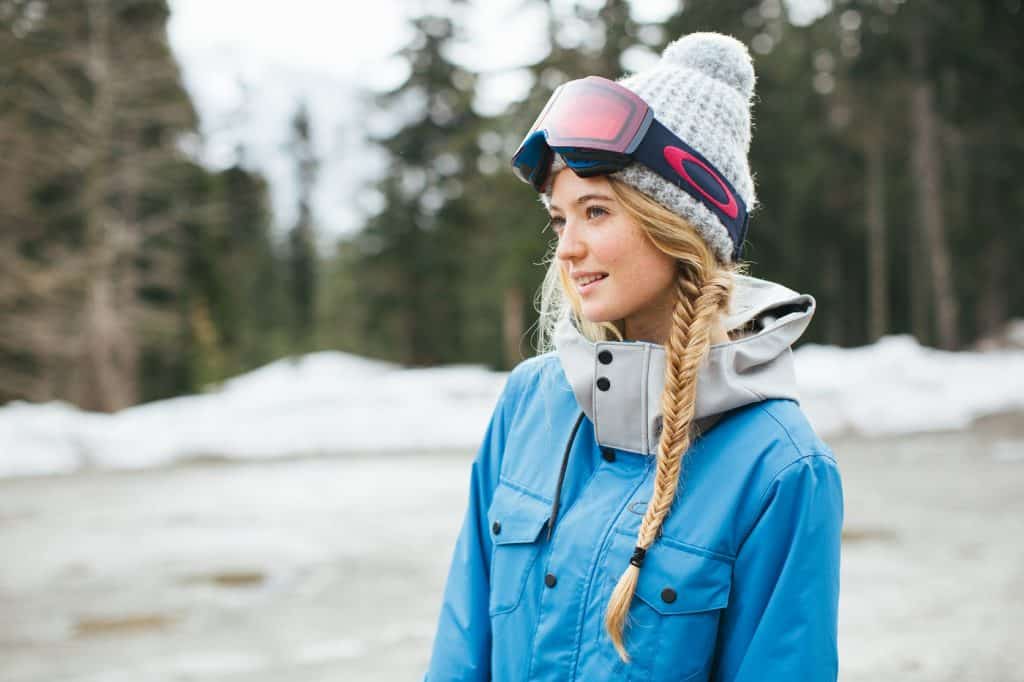 The shell layers are where the technology really comes into play. A warm sweater is a warm sweater on or off the slopes, but a shell jacket can be the difference between a good day and a wet one.
Shell jackets set your style out on the slopes, too. Shells, your ski pants, and ski jackets serve a couple of important functions, they keep you dry and protected from the elements while allowing your perspiration to escape through breathable fabrics.
While there are lots of complicated technical waterproofing and breathability ratings, keep it simple and look for a jacket and pants (or ski bibs) that are rated to at least 10K in each.
If you live somewhere like the Pacific Northwest, then a 20k rating is a good idea. The higher these numbers, the more waterproof and breathable the shells.
Building your layering system to go skiing is pretty straightforward as long as you're ready to think of each garment as an important piece in a bigger puzzle. And don't worry if it doesn't feel perfect right away, it often takes some experimenting to find a system that's perfect for you.
What's your favorite base layer or mid-layer for skiing? Please leave in the comments below!