Women's ski bibs vs pants: what's right for you?
There are a few age-old questions that every winter sports enthusiast must struggle with and find their own answers to. Some are obvious, do you prefer to ski or snowboard? Others are very personal, like if you prefer hot chocolate or tea to warm up. And some tend to fly under the radar, the sort of questions that you might never really think about, but still make a huge difference. And of that type, the most important debate is bibs vs pants.
It's an easy call for men, bibs make all the sense. But for folks for whom answering nature's call isn't as simple as unzipping a fly and using the facilities, this debate gets a little more complicated. So, whether you've considered this question for hours, pouring over pros and cons as you shopped for new ski pants, or if you've never even thought about it, we're here to help you figure it all out. Are ski bibs the right call for you?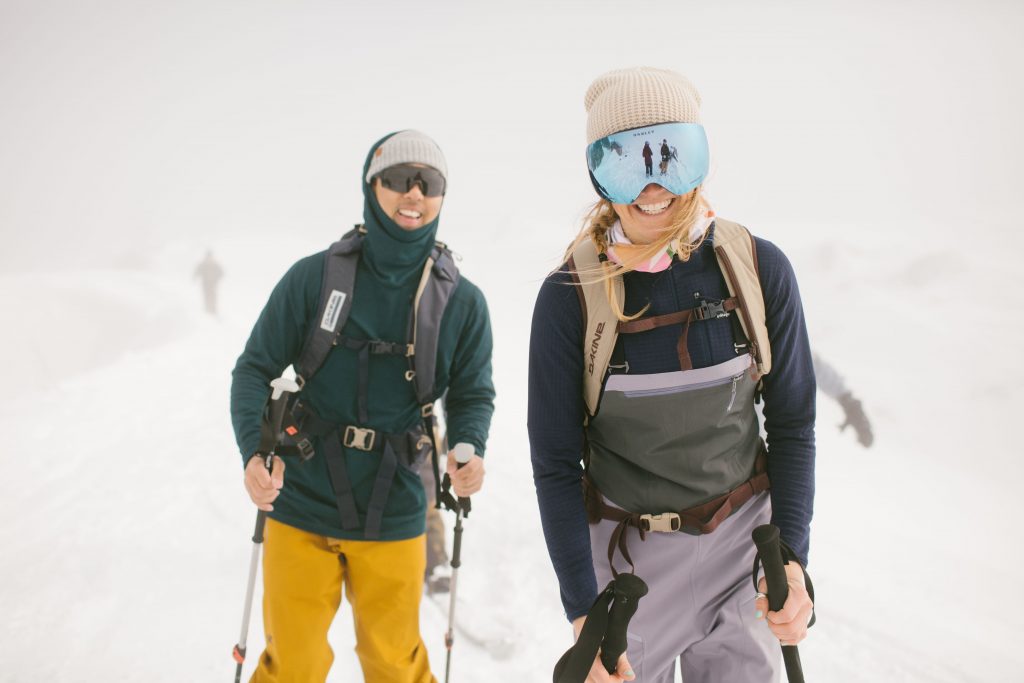 Like most important questions, there's a quick, somewhat trite short answer, followed by a lot of qualifications. So here's the short answer: YES! Bibs are almost always the right call, for all people, regardless of sex or gender… BUT, they need to be the right bibs. So let's dive into what makes a pair of bibs right for you, and why they're objectively superior to plain old pants.
Benefits of ski bibs
Bibs offer a few huge performance advantages over regular women's ski pants. The most obvious is the coverage. If you're just wearing normal snow pants, there's not much overlap between the bottom hem of your jacket and the waistband of your pants.
Any crash is likely to fill your back with cold snow. And if you're not crashing, are you even having fun? Bibs eliminate that, and they make bulky powder skirts unnecessary as well. They provide a second waterproof layer on your torso that will keep you from soaking out your base layers every time you go down. You just throw on your bibs, zip on your jacket, and laugh in the face of the snow trying to creep in and ruin your day.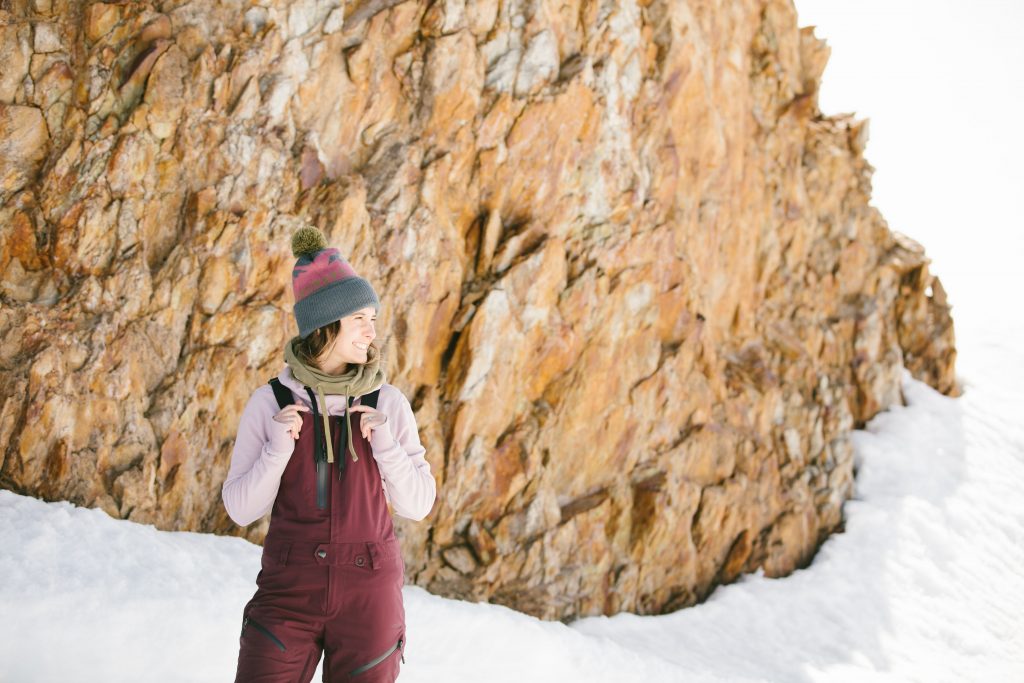 Bibs also present unique storage opportunities. Good bibs will have zippered pockets in the upper "bib" part that are perfect for snacks, your phone, and your wallet. They're much more easily accessible than wearing a pack, and they don't hinder your stride as packed full leg cargo pockets do.
And since these pockets live under your jacket, your phone will stay warmer here, and the battery will last longer. Bibs just offer a bunch of awesome storage opportunities that aren't possible with regular pants
Bibs are more comfortable for a wider range of body types than any pair of pants can ever be.
Finally, bibs are simply more comfortable than regular snow pants for most people. Many skiers and snowboarders fight a losing battle with their pants all day long, trying to keep them tight enough to stay up, but loose enough to be comfortable and not restrict movement.
Belted pants just don't make sense for the type of aggressive movements skiers and snowboarders make all the time. Bibs take all of that strain off of your waist area and let you just suspend your pants from your shoulders.
That means it feels more like you're standing in your pants, as opposed to having them strapped on. That makes a huge difference over the course of a long day, especially if you deviate at all from a stereotypical skier body.
Bibs are more comfortable for a wider range of body types than any pair of pants can ever be. We'll add in one extra benefit here, too, we love the style of bibs.
What to consider with women's ski bibs
So you're sold, right? Bibs sound perfect, what's the catch? Well, there's no real catch with bibs as a whole, instead, there are a few things to look out for as you try to find the perfect bibs for you.
The most obvious thing to keep in mind with ski bibs is using the bathroom. It's easy enough to just pull down regular pants, but with women's ski bibs, things are a bit more complicated.
Gear manufacturers have heeded the call and developed some great systems to avoid this pitfall. From halter tops to drop-seat zippers, means you can get plenty of access to use the bathroom wherever you please – without getting nearly naked in the process. Make sure to check out these features when shopping for your new bibs.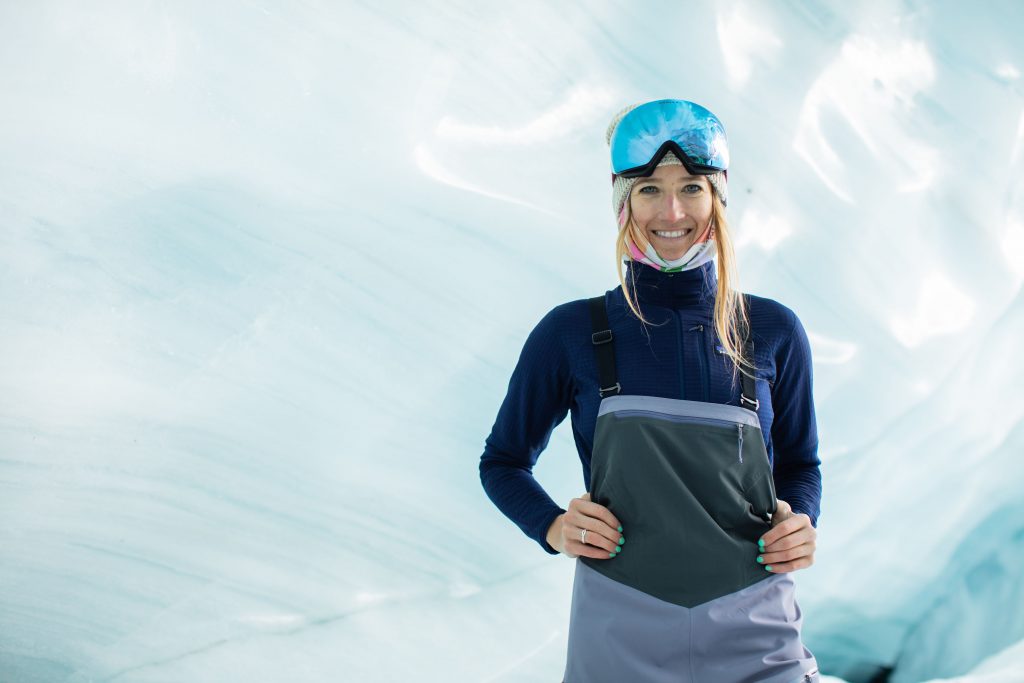 The other big thing to consider when buying bibs is fit. There are two common issues women run into with bibs, too tight of thighs/hips, and weird bib/boob interface. Unfortunately, bibs aren't much different from normal ski pants, and you'll have to make sure that they fit your body shape.
Take the time to check the full sizing guides of any bibs you might be considering. Fortunately, bibs tend to have a bit more breathing room than regular pants, they also sometimes have features like stretch woven into the material of the bib itself, or that have stretch panels in the back – these make them easier to get on and off, and allow the bib to move with you more smoothly.
The second common fit issue is the boob/bib interface. If you've got a lot going on up there, things can get uncomfortable fast. So the biggest thing to look for is bibs that know what height they are.
That means, look for bibs that are designed to end full below your bra line or bibs that are designed to go fully above it. Anything in the middle can be annoying or uncomfortable.
Plenty of brands make shorter women's bibs, this means that no matter your bust size, they won't interfere with anything. Others make bigger, baggier bibs with more pockets that go much higher, and end up with about the same neckline as an athletic tank top. That way they don't end in the middle of your breasts where they can move around and rub. Both designs work well, just make sure you don't get a bib that splits the difference.
Are bibs for you? Yes! Emphatically yes! Just make sure you look for the right features and fit. Not sure where to start? Check out our picks for the best women's ski bibs.