Climbing training and getting fit for the mountains.
Well, it's been about a month and half… Time to check in with my training and progression in preparing for climbing in the Bugaboos! This month has been highly productive in getting my nutrition and workout regimen on track. We've also done some mountain adventures (climbing and backcountry skiing) and have much more planned over the next few months. Let's take stock with my nutrition, fitness and trip planning…
Nutrition
We've been loosely following the "Whole 30" diet as our standard everyday diet. Apparently, this is a really popular diet and I'd highly recommend it – the main foods you can eat include:
Meats
Vegetables
Fruits
Nuts
Some exceptions like butter and natural oils
We've been eating "clean" Monday-Thursday and then allowing cheat meals (gotta have a Friday night cupcake!) throughout the weekend. Also, if we're out adventuring on the weekends, it's unrealistic to maintain the strict clean diet with enough fuel for activity.
Overall, my body is feeling great. I don't have the energy slumps that can happen after eating – no highs and lows, just fairly consistent energy throughout the day. I've lost about 10 lbs (my husband has lost quite a bit more!) since we started this new diet. "Diet" might be a strong word – I'd like to think of it as just "rearranging" our eating habits with a better long term approach and we've become more lenient as the weeks have gone by.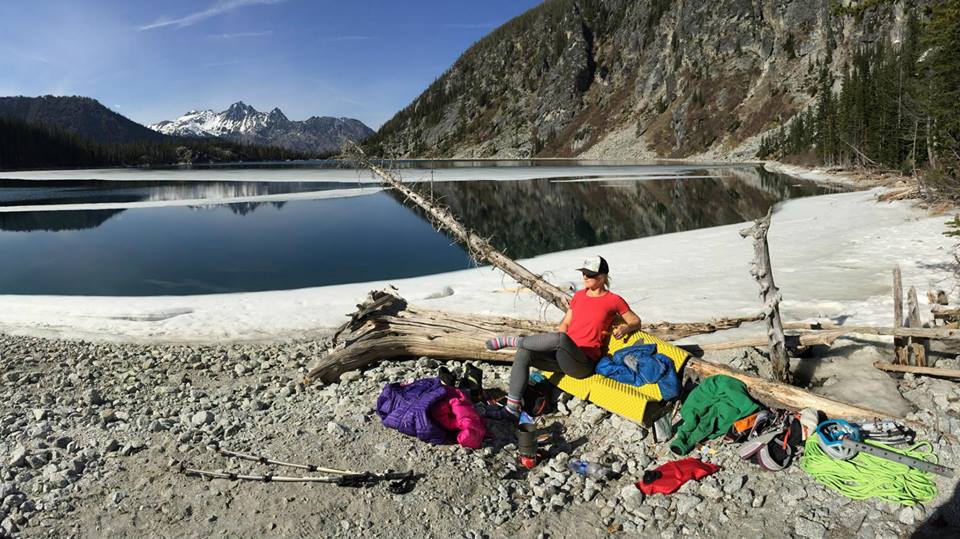 Training
Training has been on track with climbing (gym sessions), yoga and running. Here's what the typical weekly schedule has been:
Climbing 3-4x gym sessions, including:

Endurance ropes workout (4x4s)
Regular, fun ropes workout
Bouldering
Endurance bouldering (4x4s)

Running 2-3x (including one long run)
Yoga 1x
Spin class 1x
I am starting to feel a difference in my climbing stamina and strength. Definitely feeling solid on 5.10 gym routes and venturing into 5.11s. Bouldering is another story… Since we haven't been bouldering consistently over the past two years, getting back in shape with the power moves has been challenging.
I also mentioned a pesky back injury in my first #learningtoextreme post and sure enough, I have degenerative disc disease in my lower back. This makes everything painful until my spine auto-fuses and this will hinder my mobility, but physical therapy should help. However, I'm able to withstand most activities and am not doing any long-term damage.

Trips
It's prime mountaineering and backcountry skiing season! We've had some fun trips over the past month, including:
We have a number of upcoming climbs and backcountry ski trips planned:
Outer Space, Snow Creek Wall – 5 pitch 5.9 (trad climb)
Ski descent of Mt. St. Helens
Backcountry skiing from Camp Muir on Mt. Rainer
Gerber-Sink, Dragontail, WI3+, M3/4 (ice/snow climb)
Ski descent Mt. Adams
We also snagged some permits for the zone adjacent to Mt. Whitney and are headed down to the Sierras the first week of June for some rock climbing.
Are you training for any new objectives? Trying to better your climbing or backcountry ski training?