Two Days in the Heart of the San Juan Mountains
Situated in a box canyon in the heart of the San Juan Mountains, Telluride, CO, is one of Colorado's famous mountain towns. With 360 mountain views, it's hard to find a more majestic location. Starting as a silver mining town in 1875, the town of Telluride rests at 8,750 elevation and is largely a National Historic Site. What draws visitors to this place is the rustic outdoor vibe and luxury ski accommodations.
Telluride is known for the it's skiing at the Telluride Ski Resort in Mountain Village, CO (just up the hill from the actual town of Telluride). The resort offers some gnarly ski terrain as well as fun beginner slopes. There are hardcore locals and professional athletes aplenty in this town.
We spent two days skiing and exploring Telluride on a recent Colorado trip. Here are some of the highlights and activities you won't want to miss…
Day One
9:00 a.m.
Hit the slopes at Telluride Ski Resort. Warm up with good blues and greens off the Polar Queen Express and Prospect Express lifts. The resort offers skiing for every level – challenging hike-to terrain and fun, mellow groomers. With a max elevation over 13,000 feet at the ski resort, be prepared for some altitude adjustment depending where you're coming from.
If you need a place to warm up mid-morning and grab a hot cocoa, the Gorrono Ranch Restaurant is a good spot. You can also save on lift tickets by buying online in advance.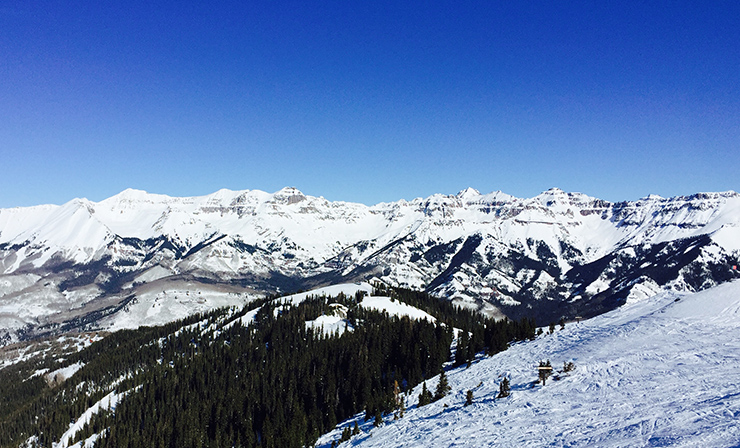 12:00 p.m.
Grab lunch at Bon Vivant restaurant at their outside bar (Bon Vivant is probably one of the coolest places I've eaten at a ski resort before). Their menu is pricey, but the views are spectacular with Palmyra Peak looming above.
If you're looking for a recommendation, the Croque Monsieur sandwich was delicious…
2:00 p.m.
Finish the afternoon skiing with some more challenging hike-to terrain such as Black Iron Bowl or Bald Mountain off the Prospect Express lift (both double black diamond terrain). We skied Bald Mountain and it was only about a 10-15 minute hike to the summit.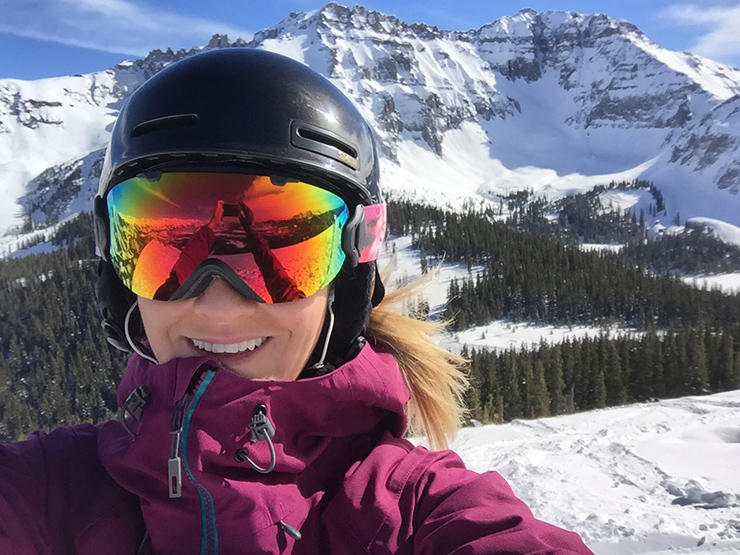 5:00 p.m.
Hot tub! A fun apres ski tradition (well, a tradition for me at least!) that's hard to miss with some of the amazing outdoor hot tubs at the resorts in Mountain Village.
6:30 p.m.
If you're staying at Mountain Village, take the gondola down for dinner in Telluride. There are so many good dinner options in Telluride, it's hard to choose! Here are a few highly recommended restaurants:
Chop House Restaurant at the New Sheridan (Steakhouse) – 233 W Colorado Ave, Telluride, CO
La Marmotte (French) – 150 W San Juan Ave, Telluride, CO
Siam-Telluride (Thai) – 200 S Davis St, Telluride, CO
9:00 p.m.
If you truly want a local's experience, go to the Last Dollar Saloon (affectionately called "The Buck" by locals) that offers a quality beer selection and margaritas. You'll get the authentic Telluride dive bar experience. La Marmotte is another fun spot for drinks in a historic Ice House, which is over 125 years old!
Day Two
10:00 a.m.
Grab brunch at The Butcher and Baker Cafe in Telluride. This is a fun, rustic cafe that sources local ingredients from local farmers. Super cute spot.
Hint, they have delicious chocolate croissants and breakfast burritos.
12:00 p.m.
Head back to the mountain for a half day skiing. Starting at 12:00 p.m., the ½ day lift tickets provide a slight discount for ski passes.
Be sure to check out some of the fun terrain in Revelation Bowl, which offers direct lift access to slopes that you can lap… and lap… and lap…
If you're feeling confident, hit some of the EX double black diamond terrain off the Gold Hill Express lift.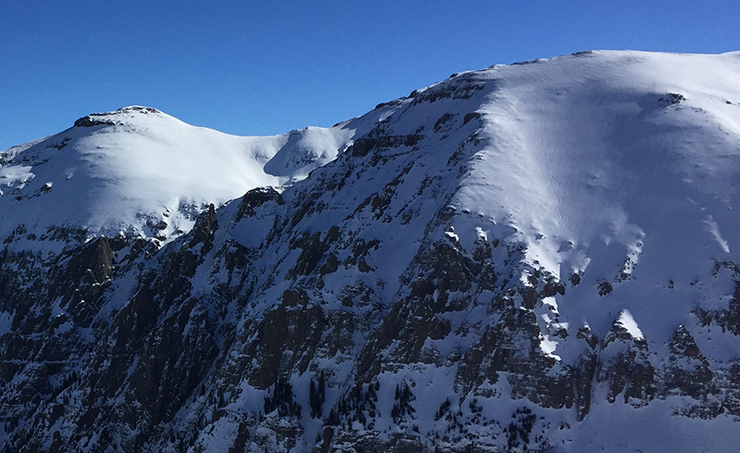 4:00 p.m.
Ski down to Telluride for some fun apres ski action. The New Sheridan Bar is a popular spot, but our favorite was the more laid-back Last Dollar Saloon ("The Buck").
The FREE gondola from Telluride to Mountain Village runs until midnight every night, so don't worry about spending time in town and getting back up to your hotel at Mountain Village (if you're staying slope side).
7:00 p.m.
Have dinner at the Tomboy Tavern in Mountain Village. This is a great, slope side restaurant that has an awesome chicken wrap and truffle fries (oh yes, they're worth the extra few bucks).
If you go…
If you're flying into Telluride, the nearest airport is the Montrose/Telluride Airport (MTJ). However, the Grand Junction Regional Airport (GJT) and the Durango-La Plata Airport (DRO) usually have cheaper flights. All airports are within a 2 ½ hour drive.
There are numerous hotel options in town and at Mountain Village. We stayed at the Peaks Resort & Spa, a slope side hotel across the street from the gondolas in Mountain Village.
In the summer, there are still a plethora of activities in Telluride such as the Telluride Bluegrass Festival, ample mountain biking and fly fishing.