The Alpenglow Speaker Series has featured outdoor icons over the years and provided stoke for many in the outdoor community. This year, for 2021, they will be hosting a virtual event for individuals to join outside of the Lake Tahoe region and around the globe.
Next up are iconic skiers Angel Collinson (Jan 7, 2021) who will talk about her formative years in Utah and some of her most extreme ski descents ever captured on film, and Ingrid Backstrom (Feb 4, 2021), who will be speaking about balancing extreme sports and motherhood.
Both these women are outdoor icons in the ski industry and trailblazers in their own right. I don't know about you, but I find ample inspiration from how hard these ladies shred and their passion for the outdoors.
(And yes, I have been known to add songs from their ski clips to my playlists to channel my 'inner Angel' when skiing!)
The Alpenglow Speaker Series is an annual tradition in North Lake Tahoe. All speakers provide inspirational stories of adventure, courage, and motivation in mountain sports.
All speaker events are free to register and there will be an optional raffle for attendees. Check out the details below and register here.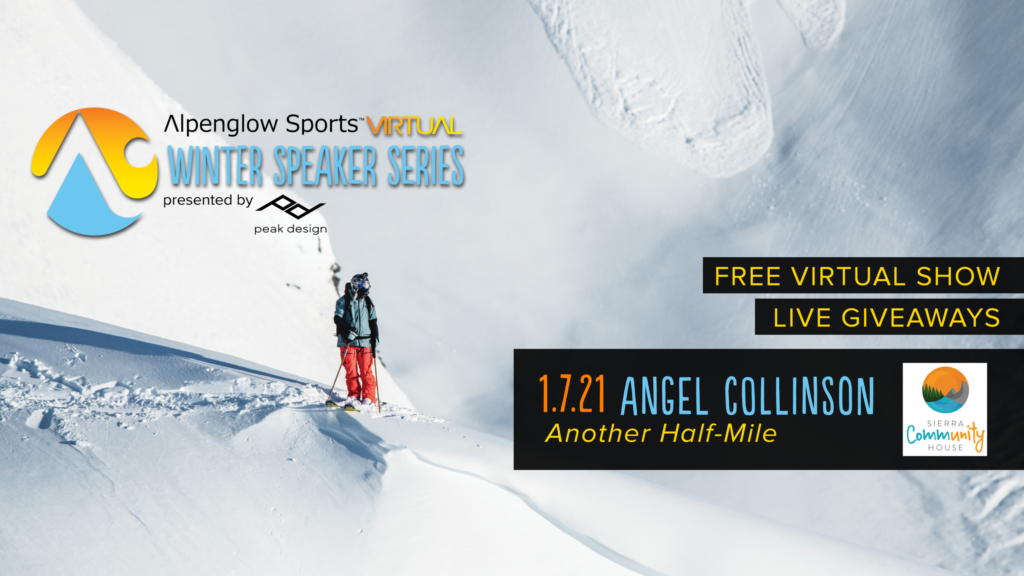 2021 Alpenglow Sports Winter Speaker Series
Here's the schedule for the 2021 Winter Speaker Series:
There will be optional ticket purchases that enter people into a giveaway of premier swag from brands like North Face, Norrøna, Leki, and Salomon. (Did someone say swag? Yes, please!)
Raffle proceeds are donated to local non-profit organizations supporting vital causes during COVID-19, including the Boys & Girls Club, the Tahoe Fund, and Sierra Community House.
All programs are FREE and upon registration can be watched live or anytime after the LIVE premiere. A LIVE Q&A with the athletes follows each show.
Spread the word – join this amazing outdoor and mountain sports community to get your stoke on!
Image Source: Alpenglow Sports, Athlete: Angel Collinson