Savory and salty snacks for hiking and backpacking
Backpacking can burn up to a whopping 6,000 calories a day, and it can be tempting to load up your pack with calorie-dense candy bars and sweets to compensate. But your palate can only take so much sugar, and your body needs more than empty carbs for fuel, so it's a smart idea to throw in a few savory snacks as well.
Some of the best savory snacks for backpacking include meats, cheeses, nuts, grains, and even condiments. These snack options are trail-worthy foods that can satisfy your hunger.
Meats & Cheeses
Meats like jerky and summer sausage are shelf-stable and hold up well even in warm temperatures. They're a great source of fat and protein to help you feel fuller longer on the trail, and they're also a good snack option if you're on the Keto or Paleo diets. Pork rinds are another good option for a protein-rich snack, but they can be bulkier (and more fragile) than other meat snacks.
When it comes to cheese, harder cheeses like parmesan and romano will hold up better in warmer temperatures and won't get crushed in your pack. Baked cheese crisps are great for a flavorful crunch, especially if you're gluten-free, and you won't have to worry about them getting soft like regular cheese.
I recommend Mini Babybel cheese since they already come in individual wax-sealed wrappers. Babybel Cheese and summer sausage is one of my go-to snack combinations for the trail!
Best meats and cheeses to pack:
Hard salami
Beef or turkey jerky
Summer sausage
Salmon, chicken, or tuna in foil packets
Meat & veggie bars
Precooked bacon
Pork rinds
Chicken or beef bouillon cubes for broth
Romano, parmesan, gouda, and other hard cheeses
Baked cheese crisps
Grains
Grains are a good source of carbohydrates for energy and can help give you some variety in the texture of your snacks on the trail. Plus, they're a great starting point for sandwiches and the perfect neutral base for condiments like peanut butter, hummus, mayonnaise, and other spreads. Firmer breads like bagels and tortillas hold up well to packing.
Pringles can be a satisfying, salty snack on the trail. To avoid any extra bulk, I recommend taking chips out of the can and place inside a plastic bag. However, this can leave them vulnerable to getting crushed while hiking!
If you don't want chips or crackers to get crushed, try hanging them on the outside of your pack as you hike. Alternatively, sprinkling crushed Pringles on a backcountry meal can be a nice topper!
Best grains to pack:
Bagels
Tortillas
Crackers
Chips
Sesame sticks
Croutons
Pretzel sticks
Nuts, Seeds, and Beans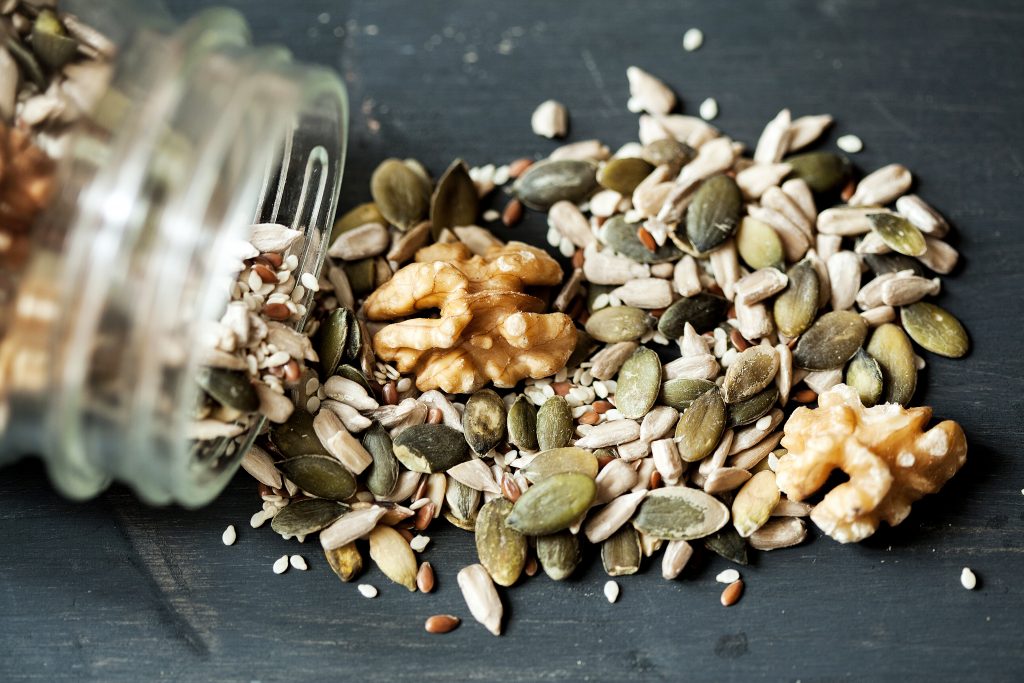 Nuts, seeds, and beans are another great source of protein and essential fats. Make sure your nuts are pre-shelled to avoid unnecessary weight and excess waste while you're out on the trail. Hummus can be purchased in individual serving packets or you can get powdered hummus and mix it with a packet of olive oil.
Best nuts, seeds, and beans to pack:
Almonds
Peanuts
Sunflower seeds
Hummus
Roasted chickpeas
Roasted soybeans
Dried seaweed (Okay, technically it's not a nut, seed, or bean, but it's a tasty superfood that's perfect for packing!)
Condiments
Variety is key to keeping your tastebuds happy, and single-serve condiments can really spice up a meal without adding a lot of extra weight to your pack. Just a little bit of mustard on some salami, or hot sauce to add to freeze-dried meals can really give your savory snack (and your motivation) a little extra oomph.
Cholula hot sauce comes in individual packets and can add wonders for improving the taste of freeze-dried foods, such as rice bowls or Mountain House meals.
Best savory condiments to pack:
Mayonnaise
Mustard
Ketchup
BBQ sauce
Hot sauce
Teriyaki sauce
Season-All
Nutritional yeast
Taco seasoning (or Taco Bell sauce packets!)
A few more helpful snack planning tips for backpackers:
Do some day trips before you tackle any longer overnight excursions so you can track your food intake and avoid the rookie mistake of bringing unnecessary food bulk on longer trips. Remember that the amount you'll need will vary based on distance and terrain.
Try to avoid packing too many processed foods. A good rule of thumb is that the fewer ingredients it has, the better.
Pay attention to your calories-per-square-inch ratio. Don't pack too many foods that take up a lot of space without much caloric value.
If snacks come in bulky containers, repackage them in resealable and reusable bags for more compact storage and less waste.
Be sure to store food properly at campsites to avoid attracting bears.
Leave no trace! Make sure you pack out any food waste you generate on the trail.
What's your favorite savory snack combination for backpacking and hiking? Leave in the comments below!
This post may contain affiliate links to brands we trust. If you use these links to purchase something we may earn a small commission. Thank you for your support!