7 Top Trail Runs Around Bend, Oregon
Bend is mecca for trail running. Situated at the base of the Oregon Cascades, there are endless options for trail runs in the area. Most of the hiking trails in the Three Sisters Wilderness can be converted to trail runs, including Lucky Lake, Elk Lake and Green Lakes trail systems.
Below outline some of the top 7 popular and scenic trail runs around Bend, Oregon.
Bend River Trail
The Bend River Trail runs through town, including the Old Mill District. It's about a 3.5 mile loop that follows the Deschutes River. It's an easy loop with one big hill (depending on which way you go). It's popular on weekends with tourists and year round with locals.
You can pick up the River Trail loop from Colorado Street Bridge public parking areas around the Old Mill District or the Farewell Bend Park.
Shevlin Park Loop
There are a few different trail options (long and short) in Shevlin Park for trail running and hiking. Shevlin Park is about a 10 minute drive from city center from NW Newport Road (turns into NW Shevlin Park Road). The main loop is about 4.5 miles on popular hiking and mountain biking trails. It's less crowded than the River Trail and a favorite run for locals.
A detailed description of the Shevlin Park Loop can be found at Cascade Hiking Adventures.
Meadow Camp Trail (Upper Deschutes Trail)
Meadow Camp is a popular hiking, trail running and mountain biking trailhead just outside of town. Drive up Cascade Lakes Hwy past Widgi Creek Golf Course and it will be a turnoff to your left. The Meadow Camp Trail is a moderate out-and-back trail run that can be customized to whatever distance you feel like running.
It's a particularly beautiful route that follows the Deschutes River and lava fields between Bend and Sunriver.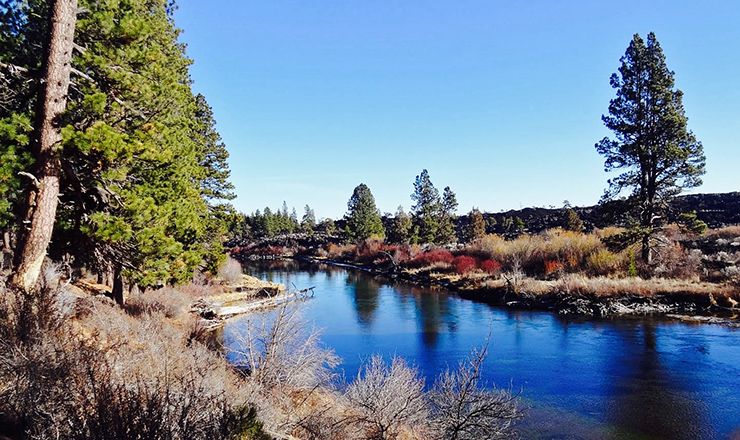 When we lived in Bend, my husband and I would frequently do a 9 mile out-and-back run to Dillon Falls. From the Meadow Camp picnic area, it's a 17 mile run to Benham Falls and back.
Broken Top Loop
One of my personal favorites, the Broken Top Loop connects a few trail systems around Swampy Lakes and Broken Top. It's also been the historical route of the High Alpine Half and 50K in September.
The Broken Top Loop connects the Broken Top Trail, Flagline Trail and Metolious-Windigam Trail systems to create a 13 mile loop or a 50K loop. Park at either the Swampy Lakes Trailhead or the Dutchman Flats Trailhead up Cascade Lakes Hwy.
Smith Rock Trails
Smith Rock State Park has a variety of options for trail running from short to long distances. Smith Rock is located in Terrebonne, Oregon, about a 45 minute drive from Bend. Smith Rock is an extremely popular sport climbing destination and very crowded in the Summer months (go early or you won't be able to find a parking spot).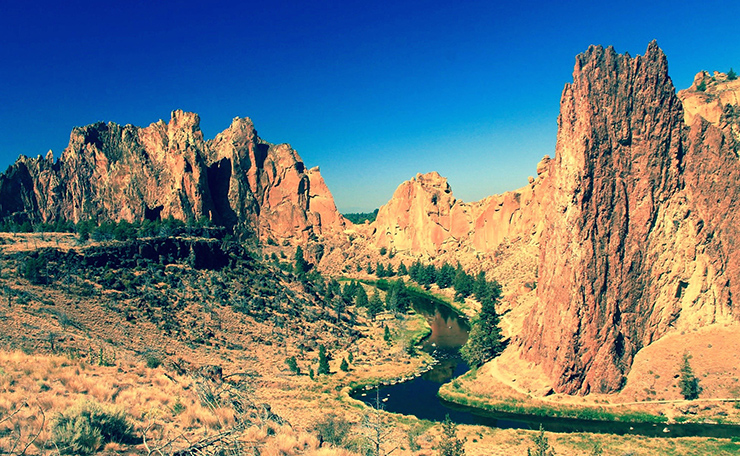 Some of the more popular trails at Smith Rocks include the strenuous ¾ mile hike up Misery Ridge to Monkey's Face and then also the Mesa Verde Trail, which is about a 4 mile loop around the backside of the park from Monkey's Face.
Visit Bend has more information on recreation activities at Smith Rock.
Green Lakes Trail
No trail running list for Bend would be complete without the Green Lakes trail, one of the most popular hiking and running trails in the Three Sisters Wilderness. It's a scenic trail that ends at a pristine lake nestled between South Sister and Broken Top mountains.
There's usually snow on the ground well into June, so be prepared for trail finding if you venture to Green Lakes before then. The Green Lakes Trail is typically a moderate out-and-back 10 mile round trip or can be made into a loop with adjoining trail systems.
McKenzie River Trail
The McKenzie River Trail is about an hour and half drive outside of Bend, past Sisters, but is a popular mountain biking and hiking location. The 27 mile trail follows the beautiful McKenzie River through an old growth forest. It was also named one of The Clymb's best trail runs in the U.S.
Here's a detailed map of the Mckenzie River Trail Run 50K that outlines the trail running systems.