Learning to Ice Climb in Ouray, Colorado
Ouray, CO is the perfect place to learn how to ice climb. It's full of beginner to advanced routes at the Ouray Ice Park, including man made top rope and lead ice routes. Not to mention the plethora of natural ice routes nearby in the San Juan Mountains. There's a reason that Ouray is referred to as the "Ice Climbing Capital of North America."
Ouray itself is a small town (with probably only one or two paved roads) and is in a beautiful setting nestled within the mountains. There are natural hot springs and some good restaurants, including popular Ouray Brewing Company on Main Street.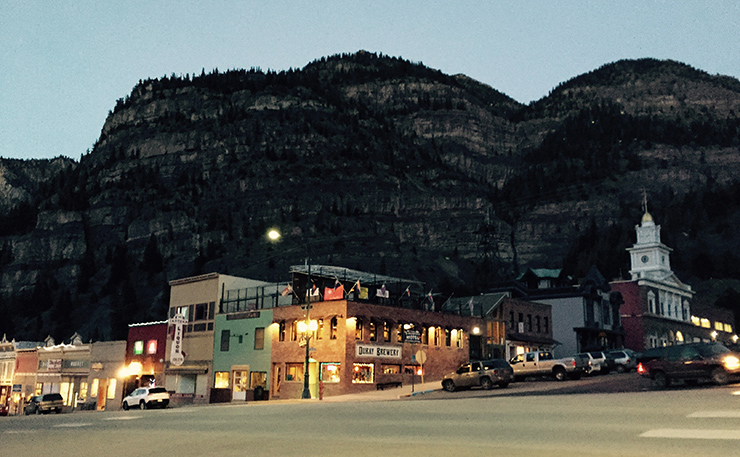 Last year, we spent a week in February at Ouray learning ice climbing basics. While my husband is an experienced climber (of all kinds of climbing from bouldering to big wall), ice climbing was new to both of us so a fun shared learning experience.
If you can only remember one rule about ice climbing, it's don't fall. Obviously, you can safely learn on top rope or have lead protection in the event you fall, but we learned this is the #1 rule in ice climbing (thank you, Conrad Anker).
Below outlines some of the ice climbing basics, such as gear, the Ouray Ice Park and mountain guiding services.
Ice Climbing Gear
Beyond the basic climbing equipment (such as climbing harness, rope and helmet) ice climbing requires a specific, technical and costly set of gear, including:
Ice tools
Ice tools are essential for ice climbing. There are many different hook and pick shapes. My personal choice is the Petzl Quark Ice Tool in both the hammer and adze (you'll want both for versatility) as they're designed both for technical mountaineering and ice climbing.
Boots
For ice climbing boots, you'll want something stiff and warm enough for the cold conditions. Good options for women's mountaineering boots include the Scarpa Mont Blanc GTX Boot and the La Sportiva Nepal Evo GTX Mountaineering Boot (what I personally own).
La Sportiva Nepal Evo GTX Boots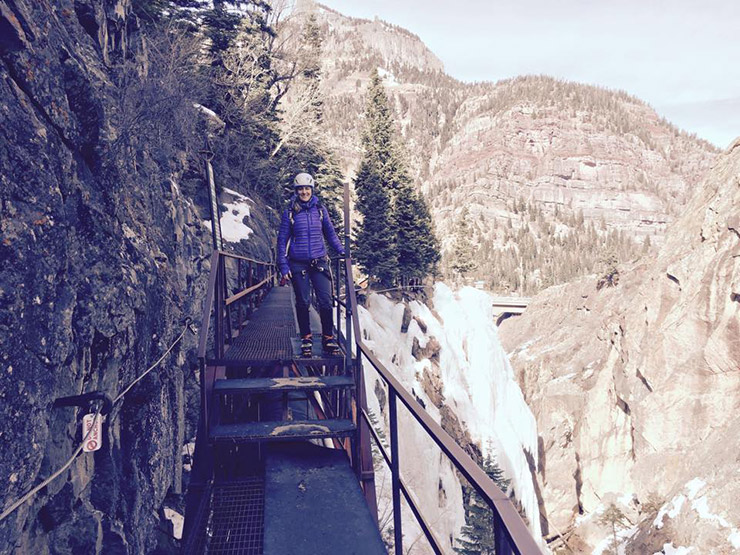 Crampons
Similarly with boots, you'll want a steel crampon that's durable enough to withstand vertical (or near vertical) ice climbing. Both my husband and I have the Petzl Lynx Leverlock Modular Crampon, which come with a few benefits:
Interchangeable front bindings to adapt to boots with or without toe welts

Option for mono or dual point toe system

Versatile for ice, steep snow or mixed climbing
Petzl Lynx Leverlock Modular Crampons
Ice Screws
If you're leading ice routes, you'll need a set of ice screws for protection. Having a varied collection of ice screw length is important for different ice thickness. Some good options include the Black Diamond Express Ice Screw and the Petzl Laser Speed Light Ice Screw.
Petzl Laser Speed Light Ice Screw
Black Diamond Express Ice Screw
The Ouray Ice Park
The Ouray Ice Park is a man made ice climbing venue with over 200 ice and mixed climbs, most within a 15 minute walk from the park's entrance. There are plenty of routes for beginners with WI2-3 routes in New Funtier or South Park and the beginners wall by the park entrance. For more advanced climbers, there are numerous WI5 routes at various walls and challenging mixed routes in the Lead Area Upper Bridge.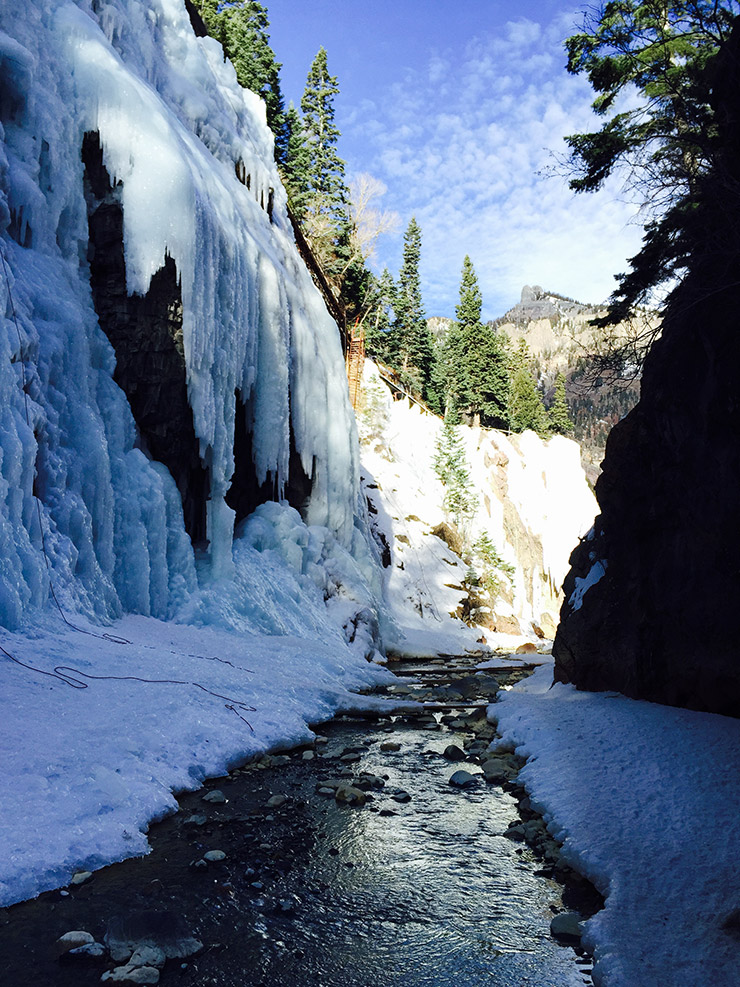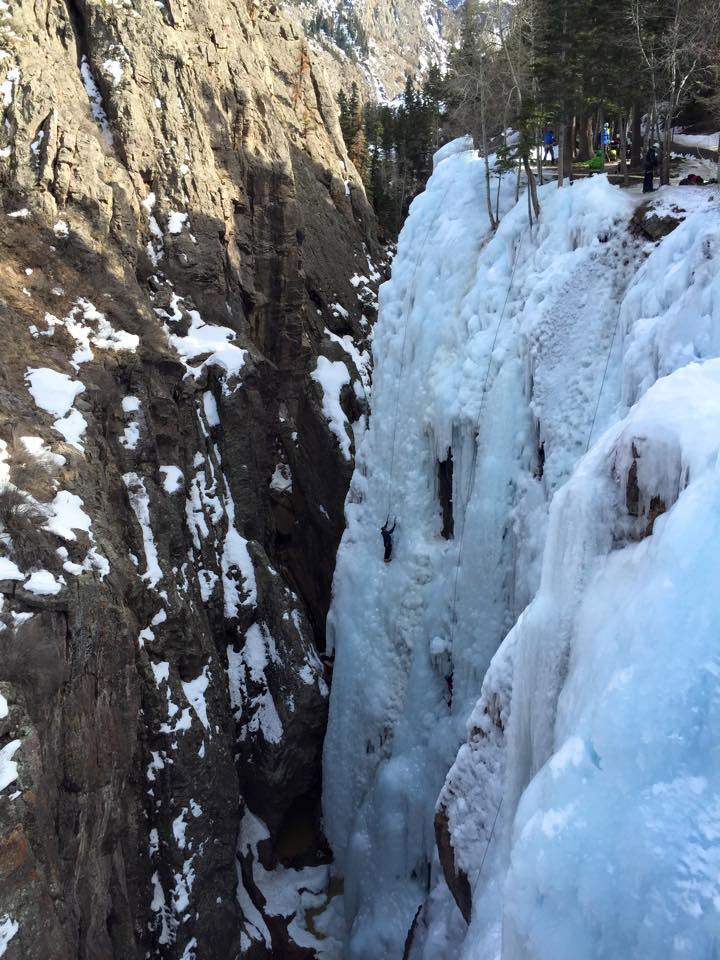 Ouray Ice Festival
The main event of the season is the Ouray Ice Festival held each year in January where the Ouray Ice Park is flooded with ice climbers and outdoor brands. There are nightly events and climbing competitions.
Become a member and support the Ouray Ice Park!
Mountain Guides
There are two popular guiding services out of Ouray, which offer guiding and gear rental services:
Stay tuned for more Ouray ice climbing adventures and detailed ice climbing gear reviews.